On December 29th, 2017, ULIS was authorized to offer training course for Master's degree in Korean in accordance with Decision No. 5063/QĐ-ĐHQGHN.
Accordingly, VNU authorized ULIS to offer M.A. training in Korean Language with two orientations of study and application since 2018 in accordance with VNU regulation on M.A. training and the training program issued together with Decision No. 1885/QD-DHQGHN and No. 1887/QD-DHQGHN on 6 June, 2017 by VNU's President.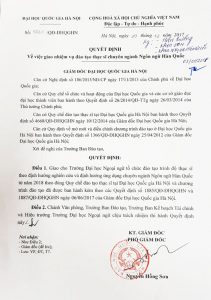 Therefore, ULIS has become the first university among 23 universities and colleges offering Korean training in Vietnam to have M.A. training program in Korean Language. In the past, this major required students to study abroad. Thanks to this decision, graduate students in Vietnam will have the opportunity to continue education and research within the country to get the Master's degree in Korean.
Tentatively, M.A. training program in Korean Language will start the student admission from 2018. The curriculum designed and taught by qualified lecturers will completely meet the standards of VNU and the Ministry of Education and Training.